TAC Delivery and Assessment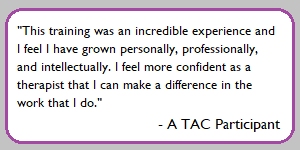 TAC Delivery
TAC is a 12-session (72 hour) competency-based training program for licensed mental health clinicians who provide pre-and-post-adoption services to prospective adoptive parents, birth parents, adopted persons, and adoptive and kinship families.
Each module combines information sharing, written handouts and resources, and experiential learning, including case studies, role plays, and introspective work. The final session provides participants with an opportunity to fully integrate learning.
Graduates of TAC receive a certificate of completion and national recognition through posting on the Center For Adoption Support and Education (C.A.S.E.)
TAC Modules
| | |
| --- | --- |
| Module 1 | Adoption History, Law and Process |
| Module 2 | Theoretical/Philosophical Framework of Adoption Competent Mental Health Practice |
| Module 3 | Meeting the Mental Health Needs of Adopted Individuals and Their Families |
| Module 4 | The Impact of Separation, Loss, and Grief: Clinical Strategies for Healing |
| Module 5 | Trauma and Brain Neurobiology |
| Module 6 | Enhancing Parent-Child Attachment |
| Module 7 | Supporting Identity Formation for Adolescents and Young Adults |
| Module 8 | Supporting Children, Youth, and Families as They Prepare for Adoption |
| Module 9 | Clinical Issues in Working with Birth and Kinship Families |
| Module 10 | Openness in Adoption |
| Module 11 | Race and Ethnicity in Adoption |
| Module 12 | Therapeutic Parenting: Parents as Primary Vehicles for Healing |
TAC Assessment
The Pennsylvania TAC is subject to ongoing, rigorous evaluation designed to assess training delivery, outcomes, and effectiveness.
Training delivery is assessed through fidelity observations and feedback on each of the modules from participants and trainers.
Training outcomes are evaluated using pre- and post-training self-assessments of adoption competency and surveys reporting changes in clinical practices at the midpoint and conclusion of training.
Training effectiveness is ascertained by using a pre- and post-test administered to training participants and to a comparison group of comparably qualified clinicians. In addition, interviews are conducted with TAC-trained clinicians six to eight months after training completion to identify and explore the longer-term impact(s) of training on clinical practices.
Pennsylvania TAC Cohort 1 is forming now.  To be considered, apply by September 11, 2020, and download the TAC Class Schedule.
For more information about the program or upcoming training dates and sites, contact the Program Development Office.