Newsroom

FDR Announces Retirement and Appointment of Executive Director and Program Administrator
Fawn Davies on 07/12/2018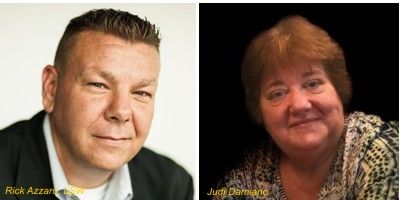 Family Design Resources Inc. announced the retirement of co-founder and executive director, Brenda Lawrence, effective July 1, and the promotion of two staff members to succeed Lawrence as executive director and program administrator. Rick Azzaro, program development manager, succeeds Lawrence as executive director. Judi Damiano, senior program manager, assumes the role of program administrator.
Lawrence co-founded the organization in 1999 and served as the executive director since its inception. FDR is best known as the program administrator for Pennsylvania's Statewide Adoption and Permanency Network (SWAN), the only public-private partnership of its kind in the United States. Lawrence has served as the SWAN program administrator since 2000.
"We are extremely grateful for Brenda's leadership over the last 19 years at Family Design Resources," said Joy Weaver, president of the board of directors. "Brenda shepherded the development of the agency since its first day of operations, including attracting and retaining highly skilled permanency experts. She guided us through significant periods of expansion and growth, particularly with the programs and services of the Statewide Adoption and Permanency Network. Both a social worker and administrator, Brenda has provided FDR with authentic belief in the mission, strategic focus on the needs of vulnerable children and families, and trusted operational leadership. The board joins me in thanking Brenda for her valued service, and we wish her the best in her well-deserved retirement," she said. Weaver added, "Rick and Judi's appointments are a natural progression of our succession planning and facilitates a seamless transition. We are confident in their mission orientation and ability to lead the agency through the next phase of our growth."
Azzaro, of New Freedom, York County, now oversees the day-to-day operations, strategic plan and fund development for the agency. In his prior role as program development manager, he was responsible for business development, contract procurement and strategic partnerships.
Prior to joining FDR in March 2017, Azzaro was chief services officer for ACCESS-York and the Victims Assistance Center, programs of the YWCA York, where he provided advocacy for and management of services for victims of domestic violence and sexual assault. His tenure with the YWCA York included a seven-month term as interim chief executive.
Azzaro graduated from Towson State University with a Bachelor of Science in psychology and the University of Maryland-Baltimore with a Master of Social Work. He is a doctoral candidate in the School of Social Policy and Practice at the University of Pennsylvania. He has held positions at Progressive Development Consulting, New Foundations, Arrow Child and Family Ministries, FACETS, Inc., Pressley Ridge and Villa Maria Residential Center. He is an adjunct professor of social work at York College of Pennsylvania.
Damiano, of Pittsburgh, who had been senior program manager overseeing technical assistance, is now responsible for directing SWAN programs and facilitating the support contract and direct service deliverables. She has served in a variety of management roles related to technical assistance and service coordination since 1996 with both the prior and current SWAN prime contractors.
Damiano was recognized as an Adoption Activist by the North American Council on Adoptable Children in 2004 and received the John A. Wilson Shining STAR Award from The Children's Institute/Project STAR in 2011.
She graduated from the University of Pittsburgh with a Bachelor of Science in information science and Carlow College with a Master of Science in professional leadership and non-profit management. Prior to FDR, Damiano worked for Training By Design developing curriculum for prospective adoptive and resource families.