Newsroom

FDR augments leadership team with appointments to new training and communications posts
Neal Goulet on 09/14/2017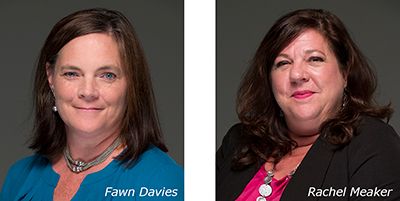 Family Design Resources Inc. has augmented its leadership team by appointing two long-time staff members to new manager positions.
Brenda Lawrence, co-founder and executive director of FDR, announced the appointment of Fawn Davies as communications manager and Rachel Meaker as training manager. Davies and Meaker joined FDR in 2009.
FDR is best known as program administrator for Pennsylvania's Statewide Adoption and Permanency Network (SWAN), the only public-private partnership of its kind in the United States.
As a social services consulting agency, FDR works to ensure a community in which every person has permanency and a caring, safe place to belong.
Davies, of Elizabethtown, Lancaster County, now oversees the development and implementation of FDR's communications strategy. She had been program manager, in addition to which she had communications responsibilities.
She graduated from Millersville University with a degree in speech communications and has held communications positions with PMSLIC, a professional medical liability insurance carrier, and the United Way of Lancaster County.
Meaker, of Wernersville, Berks County, most recently was SWAN legal training division manager and, before that, legal services training specialist. She now directs FDR's training initiatives and conferencing services.
Meaker graduated from Carnegie Mellon University and Widener University School of Law.
"Not only do these appointments recognize and reward the contributions that Fawn and Rachel have made to FDR," Lawrence said, "but they deepen our leadership team and better position this organization for future growth."
Earlier this year, FDR named Rick Azzaro to the new position of program development manager. His responsibilities include business development, contract procurement and strategic partnerships.