Newsroom

FDR's Nauman-Brown encourages foster care case workers to understand better the permanency obstacles youths face
Neal Goulet on 07/15/2016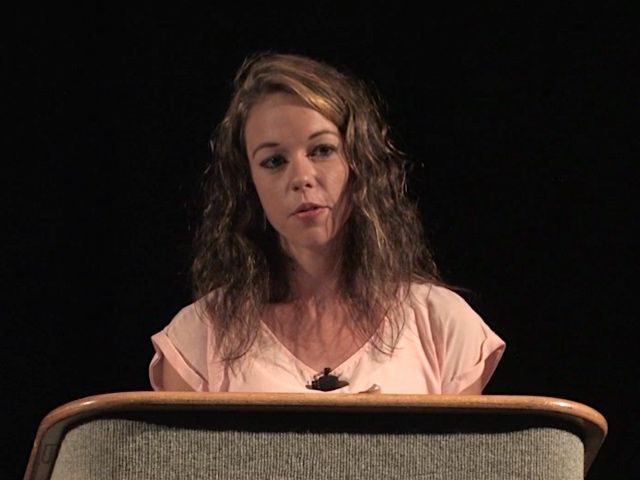 Today, Michelle Nauman-Brown is a youth advocate for Family Design Resources Inc., encouraging older foster youth to pursue permanency.
Less than a decade ago, she was a foster youth herself. She was in foster care from ages 2 to 18.
At times, she didn't follow rules, frustrating her case workers. She engaged in risky behavior because, she said, "I was hard-wired to that trauma. I was prone to continue in it, creating my own trauma and my own grief."
Nauman-Brown delivered the keynote address at the 2016 Pennsylvania Permanency Conference, which was held June 15-17 in Pocono Manor, Monroe County. The event brought together nearly 700 professionals working in various capacities to serve children and youth in the child welfare system.
Nauman-Brown drew from her own experience to help her audience better understand the obstacles that youth face when it comes to permanency. She joined FDR "because I had more of my story to tell," she said, noting that she wished to be "an example of what not to do" for today's youth.
The foster care system has flaws, she said, but it is making great strides with new strategies that promise better outcomes for youths "who desperately need us."
Casey Family Programs defines permanency as involving a relationship with at least one adult that is characterized by parenting, life-long intent, belonging, status and unconditional commitment. Some youth define it more simply: stability, a home, food, Nauman-Brown said.
'What is holding them back?'
She noted the possible negative outcomes for youths who age out of foster care without permanency, citing her own life: "I was homeless, I became a mother at 19, and was almost put in jail."
Still, it can be difficult to speak with youths about permanency. She noted the incongruity of asking children to "change everything about their lives once they come into care. And then we want to talk to them about permanency."
They can shut down, she said, or shut you out. They offer many reasons why permanency is "not for them," but it's the job of case workers to find out "what is holding them back. What is scaring our youth from becoming part of a family?"
Part of it, she suggested, is the trauma they experienced in their lives. From an early age, "their brains were hard-wired to continue and endure that trauma, to continue in the chaos." But understanding this and how their brains work, she said, it is possible to connect with them before they make the kinds of mistakes she did.
She cited the story of a girl who witnessed her father abusing her mother over a dress the girl was wearing. Later in her life, the girl's foster mother brought her a dress, which summoned to mind the earlier trauma. The memory rendered the girl powerless, which is a feeling common to foster youths.
Active listening
Nauman-Brown said the key to empowering youth is to understand them, encourage them and engage them.
"Actively listening to what they are saying, their wants, their needs, thinking thoroughly through their plans and how they are going to achieve their goals, but seeing both sides, theirs and our own … ," she said, noting the responsibility youths have for planning their futures.
"When I left care, I had plans A, B, C, D – the whole way to Z," she said. "When one fell through, I had another one lined up. If someone would have looked at those 'plans,' any adult would have seen [they] had flaws."
She had aspirations: to graduate, get a job, get an apartment. But what kind of job? How would she get there? Where would she live?
"Responding to those plans with 'That's a bad idea' would have made me tune you completely out," she said. "Questioning me on how to succeed in those plans and striving to get the best possible outcome for me would have made me have to think a little bit harder."
Past doesn't predict future
A traumatic childhood can't be hugged away, and obstacles remain for many youths. But while their pasts have to be dealt with, they do not have to dictate their futures.
"We as professional adults, with stability, have the opportunity to show these youths a new life, a different life than they have seen," she said, "to give them hope for a brighter future."
Triumphs can vary, from a teen getting into college and having a dorm room to sleep in instead of on a friend's couch, or a youth sharing his true feelings with a caseworker or mentor.
For her part, Nauman-Brown said she is not a statistic.
"I am a survivor," she said. "I am a mother, a wife, a sister, a daughter, and a friend."
She challenged her audience members to constantly remind the youth with whom they work "that they are so much more than what they were dealt."
"I struggled with permanency because I wasn't willing to open up due to my trauma, but then one person – one single person – made a breakthrough to me and the wall that I had built. It only takes one person to change someone's world."
You can view Nauman-Brown's keynote address on Family Design Resource's YouTube channel.