Newsroom

FDR's Nauman-Brown promotes permanency on 'Comcast Newsmakers'
Neal Goulet on 08/25/2015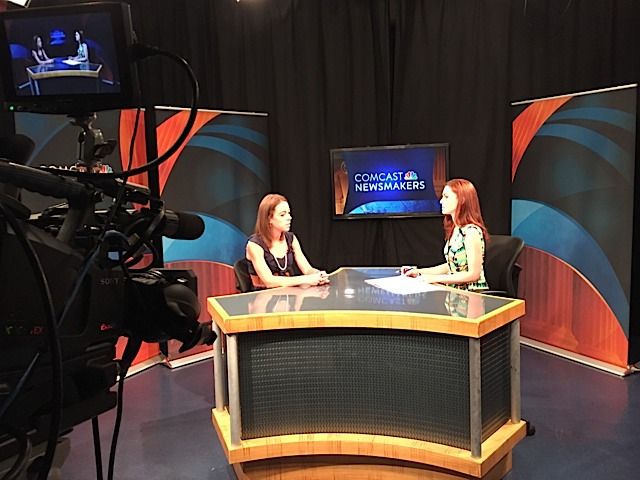 For most of us, going to college represents an opportunity to live on our own for the first time -- but safe in the knowledge that our families are there waiting for us when we get homesick or during holidays and vacations.
If you're a foster child who has not achieved permanency, however, what do you do when school isn't in session?
"You can't stay on campus all year-round," said Michelle Nauman-Brown, Family Design Resources' youth advocate. " You want to come home for holidays. Where are those kids going? So helping give an older youth some kind of permanency means more than you will ever know."
Michelle made those remarks during an interview on "Comcast Newsmakers."
Host Jill Horner noted that Michelle herself had experienced "instability in your own life. You said you said you had to go to 12 different schools growing up. What does that mean for you as a child to not necessarily have that family structure or that stability around you?"
Michelle responded: "It was very tough. I was in 12 different schools but I was in 28 different foster homes, six group homes, boot camp, detention centers. And that instability had followed me after I left foster care. I was so used to the whole moving around aspect that I just continued to follow even after I left care."
Children who age out of foster care without any form of permanency are at greater risk for negative outcomes such as homelessness, incarceration, drug abuse, teen pregnancy, Michelle noted. Michelle, who is now a married mother of two young children, overcame a period of homelessness.
"I had to look at my life and what direction I was heading in," she said. "I saw myself leading the same lifestyle as my mom. And she ended up passing away, she never got her kids back, and I couldn't do that to my own children.
"I had to get my life together and I had to stop being bull-headed and ask for that help. Because it is available. There's so many programs out that are willing to help kids. Even if a child was to leave care at age 18 and realize, whoops, that probably wasn't smart, they can come back into care, and they can receive that help. It just takes a phone call."
[A youth who has left foster care but wishes to return would have to call the children and youth agency in the county in which they live. Click here for a directory; select "Children and Youth Agencies" in the first two drop-down fields.]
To view the full "Comcast Newsmakers" interview, click here.