Newsroom

A surprise ending for 'Michelle's Story' video release party
Neal Goulet on 05/28/2015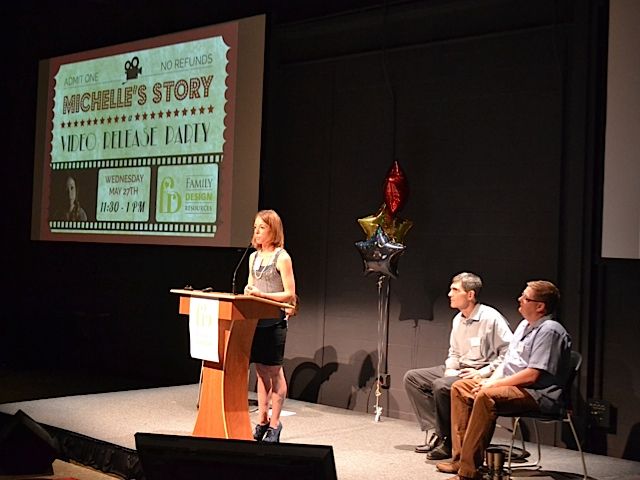 Upon completion of child preparation services in her late teens, Michelle Nauman-Brown received the gift of a video "life book" from her social worker, Lisa Richards.
The life book told such a compelling and enlightening story that Family Design Resources asked for permission to borrow it on multiple occasions.
Upon one request, Michelle offered: "You know, I really want to tell the rest of my story."
Brenda Lawrence, executive director of Family Design Resources, recounted that anecdote on May 27 at an event marking the premiere of a seven-minute video.
It's called "Michelle's Story," and, picking up where Michelle's life book left off, it describes how she has triumphed over long odds.
Today, Michelle, now 25, is a youth advocate for Family Design Resources, encouraging foster youth to learn from her story and touting the importance of permanency in their lives.
"Michelle's Story" is a collaboration of Family Design Resources and JPL, one of the Mid-Atlantic's largest full-service marketing agencies.
JPL's media center was the setting for a video release party, complete with a keepsake "Michelle's Story" movie ticket. Sharing table space with take-home boxes of Junior Mints and bags of microwave popcorn was a box of tissues, in anticipation of the emotions that "Michelle's Story" would summon in viewers.
Luke Kempski, president of JPL and chairman of Family Design Resources' public relations committee, thanked Michelle for "leading us to this moving story." He introduced JPL's Mike Isbell, project manager for "Michelle's Story."
"Many years ago, I chose to work in the communications industry because I wanted to tell compelling stories, tell stories that moved the audience to action, stories that made the world a better place," he said.
He noted that Michelle's story, while compelling, "is among thousands upon thousands of stories, all too similar to Michelle's across our region, state and country. Stories of children seeking permanency, seeking to find a forever family to love them."
Mike and his wife, Lorelee, adopted three siblings three years ago. (Lorelee herself was adopted as a child.)
"To say that I've been passionate about telling Michelle's story would be an understatement," he said. "If you watched the video with me, you'd know. I'm moved every time I watch it as I'm reminded of the stories of my own kids."
He introduced Michelle, who was joined at the event by her husband, Scott Brown; her daughter, Braylynn, 6; and son Jeremiah, who will turn 2 in June.
"I know each and every one of you were moved by the video," she told an audience of approximately 50 guests. Even though it is her story, she said, "I get goose bumps, and I get chills when I watch it."
When you're in foster care for any amount of time, she said, it is difficult "to really feel like you belong somewhere, like there's somewhere you're supposed to be, that there is a family that loves you, that there are people that care about you. And in my time in care, that seemed out of the question for me."
Michelle, whose original foster mother attended the video release, said she tells foster youth that they need to find "those permanent figures in your life to kind of ground yourself, and to feel like you're not going crazy and that your life does have a purpose."
Michelle said her journey had come full circle, adding a detail that is not part of the video.
She and Scott are close friends with Scott and Wanda Carter, who live near them in Bradford County. The two Scotts met in the Air Force Reserves and work together in civilian life.
At the end of June, the Carters will formally adopt Michelle.
"And my daughter [will have] grandparents," she said, "which is something she never had."