Youth Advocate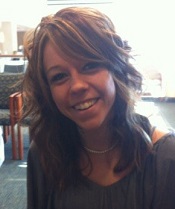 In Pennsylvania, professionals in the child welfare system and family courts have come to know "Michelle's story" as an illustration of birth family struggles, the emotional turmoil of children in out-of-home care, the importance of birth family connections, healing from grief and loss, and perseverance through instability. A video lifebook created for Michelle by her caseworker and used at times as a training tool has touched our work and helped raise awareness of the needs of children and youth placed in foster care. 
Michelle is more than a story.  She's a very real person who grew up in the foster care system.  She believes that sharing her story may create change for other older youth who have journeyed through substitute care.
FDR's Youth Advocate Program is an outcrop of Michelle's personal mission.  The program goal is to challenge the misplaced beliefs and attitudes of child-serving professionals and youth in care regarding permanency. 
We want to ensure that youth leave care with permanency.  At the very least we want them to gain the most benefit from services afforded to youth in care.  Ultimately, we want them to know who the people are they can rely on for support as they grow into strong, capable adults.
---
About Michelle

Michelle Brown is a Youth Advocate with Family Design Resources, Inc. where she collaborates with program staff to advocate for the permanency needs of older youth in out-of-home care.  As a former foster youth, Michelle and her story, as told through a video lifebook used in presentations and trainings, have impacted many professionals serving Pennsylvania's waiting children. 
 
Michelle shares her story in an effort to increase permanency for children in care and encourage and inform older youth on the benefits of staying in foster care until age 21.  Placed in foster care as a toddler, Michelle was emancipated at age 18.  While in care she used resources, including child preparation services, to overcome loss of connection with her birth family, multiple placements and a dissolved adoption. Michelle identifies as a success, not a statistic, and openly shares her story in the hope of making a difference in the lives of others.